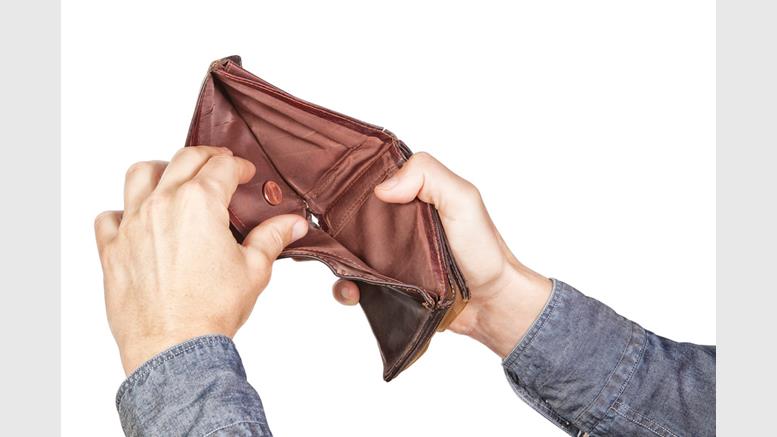 MultiBit User's Loss Highlights Need for New Bitcoin Wallets
The developer of popular bitcoin wallet MultiBit is battling a wave of criticism this week after a user suggested that a bug in the software rendered his bitcoins inaccessible. Reddit user 'wetseals', who asked us not to reveal his real name, said that he transferred 0.5225 bitcoins into his Multibit wallet from his Blockchain wallet, hoping for a more secure form of offline storage. Wetseals planned to use the wallet to help sell multiple Starbucks gift cards to chatroom users of the online power site SealsWithClubs, and set up 550 separate bitcoin addresses for that purpose, he said. He....
---
Related News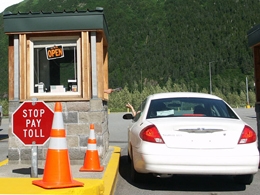 Multibit, a well-known bitcoin wallet, is one of the most popularly downloaded wallets. But what some people may not know is that the whole team consists of 2 developers; they're having trouble supporting a larger user base. On top of the fact they have day jobs and the project is sustained off of only donations, so they decided to implement what they called BRIT, or Burton-Rowe Income technique. Essentially, Multibit is charging a 1000 Satoshi transaction fee, which is 1/10 of the 10,000 Satoshi "Miners Fee". Proceeds will help support Multibit Project and upcoming....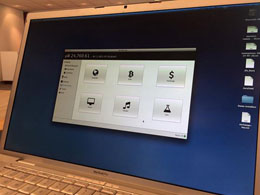 MultBit has been quietly dropping scraps of information about its new MultBit HD wallet for months now. At the recent Bitcoin2014 conference, Jim Burton and Gary Rowe of MultiBit gave CoinDesk a hands-on preview of the new software. One of the most popular wallets out there, MultiBit gets around 4,500 downloads every day. Since its launch in 2011, MultiBit has been downloaded 1.8 million times. That's a lot of users and a great deal of pressure when it comes to producing a product that will last. Rowe said: "We wanted [to build] software that could scale up to tens of millions of people."....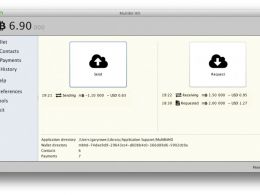 One of the first ever screenshots of MultiBit HD. MultiBit is widely considered to be one of the most secure and lightweight desktop wallet applications. The free, cross-platform wallet has been around since 2011, and currently has thousands of users worldwide. What makes MultiBit so unique is that it supports opening multiple wallets simultaneously, does not require downloading the entire Bitcoin blockchain, encrypts and stores private keys locally, and is available in over 35 languages. Back in September 2013, MultiBit announced plans to fork the existing code and develop a new,....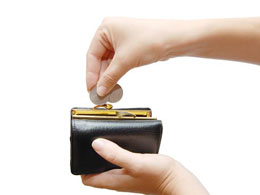 MultiBit is one of the unsung heroes of the bitcoin world. The desktop bitcoin wallet software, launched three years ago, recently surpassed 1.5 million downloads and, in fact, Gary Rowe, one of two core developers on the project, puts the estimate at more like 1.8 million this month. Now he and development partner Jim Burton are about to start charging tiny fees for using it. One of the things that must have helped MultiBit a lot was being listed on bitcoin.org. The wallet is one of five desktop wallets listed on that site, and is outpacing at least some of them. CoinDesk reached out to....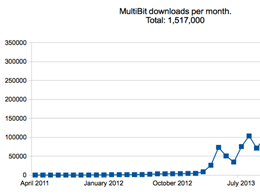 Bitcoin wallet provider MultiBit has passed an important milestone - its one millionth download. In fact, since nobody was actually keeping track, their one-million milestone came and went without anyone noticing and the current figure is much higher. When the MultiBit team was recently asked how many downloads had occurred since launch, they crunched a few numbers to reveal that the wallet had in fact been downloaded a total of 1,517,000 times since April 2011. The team pointed out: "The figures have been adjusted down to take into account various DoS attacks and are based on the overall....
---
Quotes
The average user should pick up Bitcoin: To experience the future of money. To gain a glimpse into an exciting technology. To learn about how money could be in the future and also become aware of how limited money and banks are today.