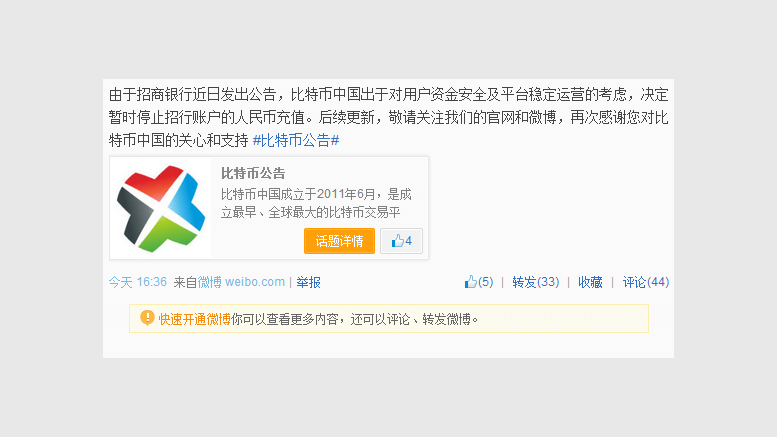 BTC China Halts Chinese RMB Deposits In Light Of Renewed PBOC Crackdown
Yesterday, Caixin reported that the PBOC, led by the Payment and Clearing Organization of China, has been having meetings and interviews with commercial banks, third party payment processors, and Bitcoin exchanges within China. PBOC officials made it very clear that they wished to completely cut off the funding line of Chinese RMB into Bitcoin trading platforms around the country. The renewed interest in Bitcoin by the PBOC has led to funding shuffles from every Chinese Bitcoin exchange. Cryptocurrency exchange rates across the board have suffered since the first rumors of renewed the....
---
Related News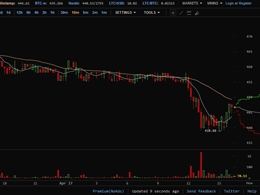 As a result of the recent PBOC rebuking remarks about banks still funding BTC China, the Chinese Bitcoin exchange company has halted RMB Deposits. The PBOC clarified its position on Bitcoin a few days ago and explained its stance, "The current level of services that banks and third-party payment processors provide counts as directly providing services to Bitcoin related companies. Online stores and public marketplaces that sell or trade 'deposit codes' from Bitcoin exchanges counts as indirectly providing services to Bitcoin related companies.". The PBOC has said that these types of....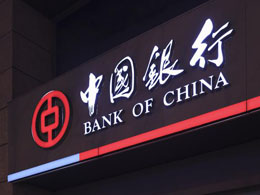 BTC China announced to its English-speaking users via Twitter today that it has suspended yuan (RMB) deposits from the Bank of China. In its second such announcement since 26th April the exchange said in a (since-removed) tweet: Dear users, Due to regulations, we have suspended CNY deposits from Bank of China. For further enquiries, pls email: support@btcchina.com. - BTC China (@btcchina) May 6, 2014. Chinese exchanges have suffered major setbacks recently after banks finally responded to repeated directives from the People's Bank of China (PBOC) - China's central bank - and shuttered all....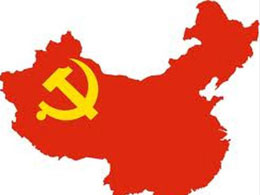 The last few weeks of March were rife with misinformation out of China regarding a mysterious notice from the PBOC supposedly sent to regional banks and 3rd party payment processors. Original news of the notice was misinterpreted and leaked on 3/21/14 leading many to dismiss all news out of China in subsequent days. On 3/27/14, Chinese reporters from Caixin claimed to have seen the PBOC document and published a synopsis of its contents. The title of the supposed notice is this: 关于进一步加强比特币风险防范工作的通知, or the Notice on Further Strengthening Bitcoin Risk Prevention Measures. In the notice, the....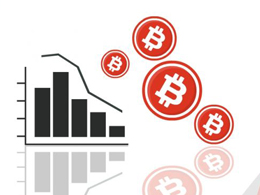 Today, at the Boao Forum for Asia 2014, the President of the Central Bank of China, Zhou Xiaochuan, announced: "Bitcoin is more like tradable assets rather than payment currency, the issue of PBOC banning it or not doesn't ever exist." The BTC price shot up by 20 % immediately after the news. The reason for the drop after almost a week of relative stability, which seems like eternity in the world of Bitocoin, was once again news from China. Chinese businesses apparently started to receive official deposit shutdown notices from banks, which seems to confirm recent suspicions that....
The latest Bitcoin news from China is in. A handful of Chinese banks have decided to kick off the week by unilaterally banning Bitcoin-related accounts. Tuesday morning in China, Ping An Bank and China Everbright Bank both posted notices to their website announcing that they would suspend accounts of individuals or organizations caught participating in Bitcoin or Litecoin transactions. Both banks explicitly mentioned the PBOC as the source of this decision. Also, both banks call for the public at large to report any individuals or organizations that might be involved with Bitcoin or....
---
Quotes
Technical answer in bitcoin is that bitcoin is a remarkable cryptography achievements.