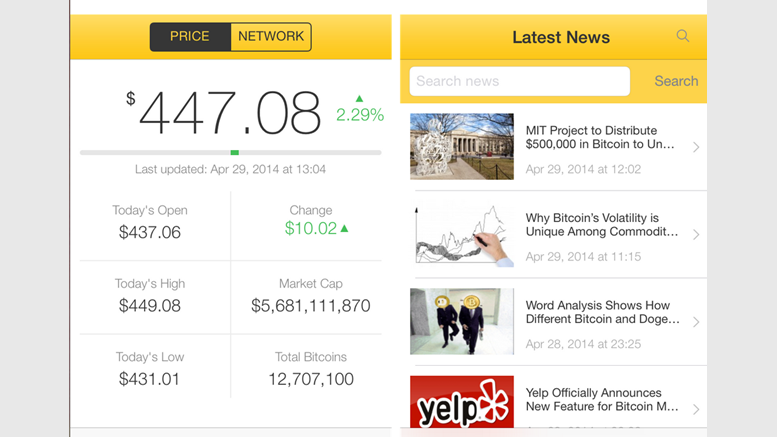 CoinDesk Bitcoin App Now Available for iPhone
CoinDesk has released an iOS application featuring the latest bitcoin news and analysis, Bitcoin Price Index, a price chart, currency converter and price alert notifications. Users can check the real-time bitcoin price on the app's homepage which combines price and network pages from the website. Users have the option to toggle between the bitcoin price and network statistics. Currently, the homepage features the USD price index, but users can take advantage of the currency calculator tab to view the price in their currency of choice. The bitcoin price is based on Bitcoin Price Index data.....
---
Related News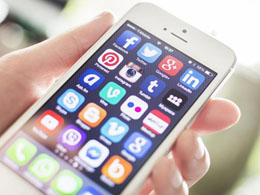 Historically, Apple and cryptocurrency have had a contentious relationship, largely because Apple refused to allow the development of any iPhone apps that enabled the transmission of cryptocurrency. However, Apple recently revised their app development guidelines, which gave iPhone owners hope that they would once again be able to download popular mobile wallets like Coinbase and Blockchain. Though only Apple only just announced the guideline changes, developers are already resubmitting their mobile wallets to Apple for approval. The first mobile wallet to appear on the App Store belongs....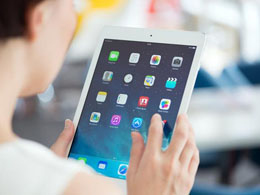 It wasn't too long ago when Apple blocked bitcoin apps from being available through its App Store. Who could forget the angry bitcoin users destroying iPhones because of it!? Still, Apple's decision to reverse its anti-bitcoin app policy and allow mobile wallets onto the iOS platform only dates back to about five months ago. Also read: Blockchain iPhone App Removed from App Store. Blockchain Responds. Now, thanks to Apple's change of heart, bitcoin users have a variety of wallet apps they can use to transmit value across the world. In fact, at the time of this writing, 7 of the top 10 free....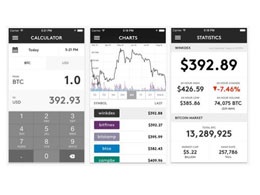 Chart gazers that work on an iPhone, this one is for you. Today, the Winklevoss twins - Cameron and Tyler - announced on Reddit that the mobile version of their popular bitcoin price tracker, the WinkDex (also known as the Winklevoss Index) is now available. Specifically, users on iPhone and iPod Touch are able to download the app directly from the App Store, and from the looks of it, the app contains some pretty interesting information when it comes to keeping informed on the bitcoin markets. From charts, to a super useful historical price calculator, the app is so far a win in my book.....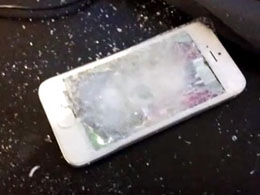 Look, folks. We get it. The lot of you are absolutely annoyed that Apple has killed off the Blockchain.info application from the App Store. It's an overall crummy situation. And with users retaliating by smashing, stabbing, and even shooting their iPhones - we come to you with three simple steps to tell Apple where to go in a socially acceptable fashion. Sell your iPhone, don't smash it, toss it, launch it into space, or throw it at somebody. Seriously, this doesn't really do anything aside from make you seem crazy. Something tells us Tim Cook isn't hanging out on YouTube and shedding....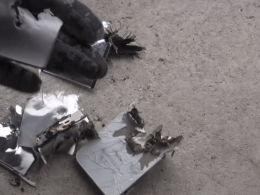 The remains of a destroyed iPhone 4S. Just yesterday, Apple pulled Blockchain.info's wallet app from the App Store without any clear reason. This was the last remaining wallet app on the App Store, and its removal annoyed quite a lot of Apple users. Some expressed mild to moderate disapproval over twitter. Apple not interested in #bitcoin: http://t.co/pOtis3KWLa They just want your dollars, I guess. - munin (@munin) February 6, 2014. Others however, seem to be so utterly pissed off that they've smashed their iPhones in protest. Reddit user "round-peg" posted on r/bitcoin that for every 100....
---
Quotes
It's very hard to transport $1 million in hard currency overseas. You can't just put it in a backpack and get it on a plane very easily. But it is very easy to do that now digitally using Bitcoin.