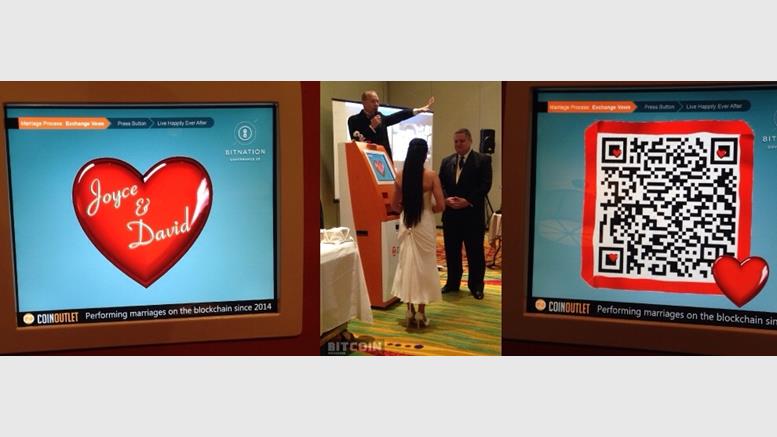 The First Blockchain Wedding
In a step to decentralize the state's authority to give a stamp of approval on love, Joyce and David Mondrus have gotten married on the blockchain. How did David get married on the blockchain? Those who attended the wedding were shown a QR code that linked to the transaction where the data associated with the wedding was stored. Any bitcoin transaction can store information. In David's case, he stored information related to his wedding, which I am actively looking into. Jeffrey Tucker officiated (he would probably say unofficiated) the wedding ceremony which had a few attendies watching....
---
Related News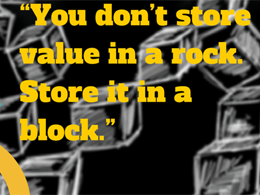 If you think that diamonds are way too traditional to have on a wedding ring, consider this bitcoin wedding ring instead. The BTC Ring combines 3D printing and bitcoin technology in creating personalized jewelry that can come with a QR code for your bitcoin wallet address. According to its website, The BTC Ring is the only bitcoin ring that marries real value and design, with a catchphrase "You don't store value in a rock. Store it in a block." Bitcoin Ring Inscriptions. The company says that the real value of a wedding ring or gift lies in knowing how much exactly it is worth. It makes....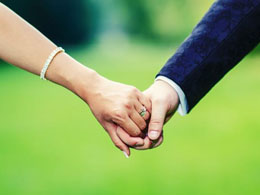 Just last month CCN reported on the first ever Bitcoin wedding ring, which exists in the form of a wearable QR code, and now, one couple plans to become the first to use the Bitcoin block chain itself to register their marriage, where it will remain publicly visible for the life of the internet. In what is being dubbed a "Block chain Marriage," the wedding is taking place on Oct. 5 at the Disney World Coins in the Kingdom Bitcoin Conference, and is being performed during the Bitnation panel. Bitnation is a virtual nation of sorts, offering governance services via the Bitcoin block chain.....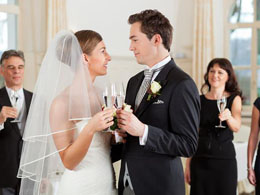 A farm in the bucolic English countryside will now accept bitcoin payments from wedding parties seeking to hire the venue for their special day. The farm, a three-acre property called the Loudwater Estate Event Centre in Hertfordshire, South East England, charges charges £2,000 (or 2.359 BTC - according to the current CoinDesk BPI) for an all-day venue rental. The estate's owner, John Michell, said he started accepting bitcoin payments a week ago and is yet to make his first sale. However, he is confident the right couple will be enamoured by the 17th-century barn and idyllic views of the....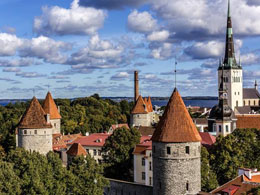 A marriage between two self-described "glomads" Tuesday marked the first official act by the new Estonia e-residency/Bitnation partnership. The marriage, for better or for worse, of Edurne Lolnaz and Mayel de Borniol will not be recorded anyplace else other than on the block chain. Bitnation recently agreed to extend its notarization services to Estonia's e-residency program. The wedding was held Dec. 1 at 3 p.m. GMT. A party is planned for June 18, 2016 on the Island of Santorini, Greece, and there is an invitation form on the couple's website for anyone interested in attending. Wedding....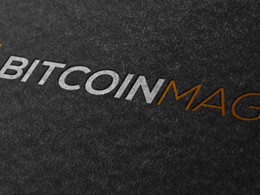 LAKE BUENA VISTA, FL, SEPTEMBER 22 - The value of Bitcoin is about to become life changing for one couple, who will use Bitcoin technology to register their marriage on the blockchain, as one of the governance services provided by Bitnation. This hi-tech wedding is the first of its kind, and will take place at the Disney World Coins in the Kingdom Bitcoin Conference on October 4th and 5th at The Wyndham Lake Buena Vista on The Walt Disney World Resort. David Mondrus is a serial entrepreneur, CEO of RedboxJewels.com, and advisor at Bitnation, who met Joyce Bayo while he was researching new....
---
Quotes
There is a famous scene in the Matrix where Morpheus asks Neo if he wants to take the blue pill and go back to life as he knows it or take the red pill and see life as it is. Neo takes the red pill and begins a period of exploration about humanity, hierarchy, rules, etc. Bitcoin is a red pill. There will be some bad and awkward moments, but lots of good, useful and powerful things will also ensue. It will reallocate financial strength and power to the people versus keeping it within a few centralized authorities. I am hopeful that Bitcoin prevails. The world needs more red pills.