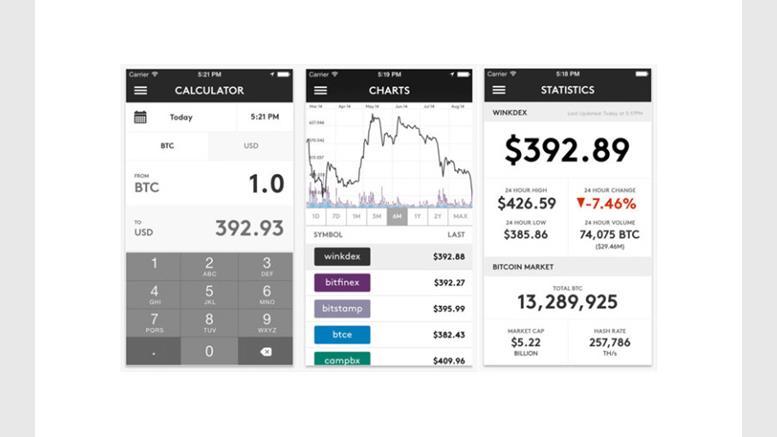 Winklevoss Index Becomes Available For iPhone & iPod Touch
Chart gazers that work on an iPhone, this one is for you. Today, the Winklevoss twins - Cameron and Tyler - announced on Reddit that the mobile version of their popular bitcoin price tracker, the WinkDex (also known as the Winklevoss Index) is now available. Specifically, users on iPhone and iPod Touch are able to download the app directly from the App Store, and from the looks of it, the app contains some pretty interesting information when it comes to keeping informed on the bitcoin markets. From charts, to a super useful historical price calculator, the app is so far a win in my book.....
---
Related News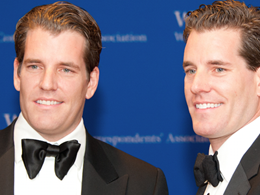 The article has been updated with comment from Cameron Winklevoss. WinkDex, the bitcoin price index created by bitcoin investors and entrepreneurs Cameron and Tyler Winklevoss, has launched a new API for developers. As first reported by Fortune, the WinkDex API was made available today. The API page on the index's website outlines key information, as well as suggestions for application development. Cameron Winklevoss told Fortune that the benefit of the API release would help both the index itself, as well as the broader bitcoin community, saying: "We've spent a lot of time trying to build....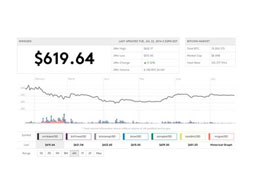 The Winklevoss Twins, Cameron and Tyler, are hoping to make a splash with their newly-launched Bitcoin Price Index, aptly named the WinkDex. According to a Fortune exclusive, the twins - beginning today - will be opening up their Index's API (application programming interface) to developers, which will allow said developers to build atop the Index with their own programs. "We've spent a lot of time trying to build a really cool tool," said Cameron Winklevoss to Fortune. "Obviously the index will be big for us because it will be used to price any future ETF. But we also wanted to build on....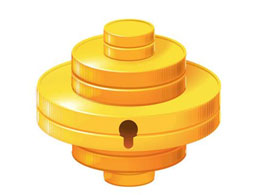 Hive has launched a bitcoin and litecoin wallet app for iOS devices, including the iPhone, iPad and iPod Touch. Called Hive Wallet, the app is free, takes up just 2MB of users' precious memory and requires iOS 7.0 or later to run properly. The company says the app is optimised for the iPhone 5, which will also apply to the subsequent 5S and 5C models. The company announced its new product with a simple tweet: Hive, a #Bitcoin and #Litecoin wallet for iPhone and iPad now available! https://t.co/aY1btPr5FD. - Hive (@hivewallet) August 13, 2014. The Hive app for iOS was listed on iTunes on....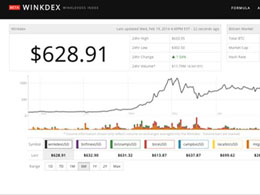 Cameron and Tyler Winklevoss are at it again. The twins, both huge advocates of bitcoin, have launched the Winklevoss Index, otherwise known as the 'Winkdex'. Yes, that's really what it's called. It's a blended price index that aims to "reflect the true price of bitcoin", but also to serve as the official index used to value the bitcoins in the brothers' yet-to-be-approved ETF (exchange-traded fund). Winkdex is calculated by blending the trading prices in U. S. dollars for the top three (by volume) qualified Bitcoin Exchanges* during the previous two hour period using a volume-weighted....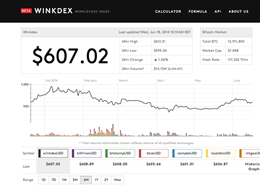 The Winklevoss' bitcoin price index, the 'WinkDex', has made its first appearance on Bloomberg. Listed on the platform under WINKBTCO, the move is an important step for the young index, launched earlier this year. In a brief blog post the team say they are honoured to be working with Bloomberg to bring a "blended bitcoin price index" to the wider investor community. In addition, the WinkDex is about to get a number of new features over the next few weeks, including an API. WinkDex was launched in February and it is just one bitcoin related initiative headed by Tyler and Cameron Winklevoss.....
---
Quotes
Hey, obviously this is a very interesting time to be in Bitcoin right now, but if you guys want to argue over whether this is reality or not, one Bitcoin will feed over 40 homeless people in Pensacola right now. If you guys want proof Bitcoin is real, send them to me, I'll cash them out and feed homeless people.