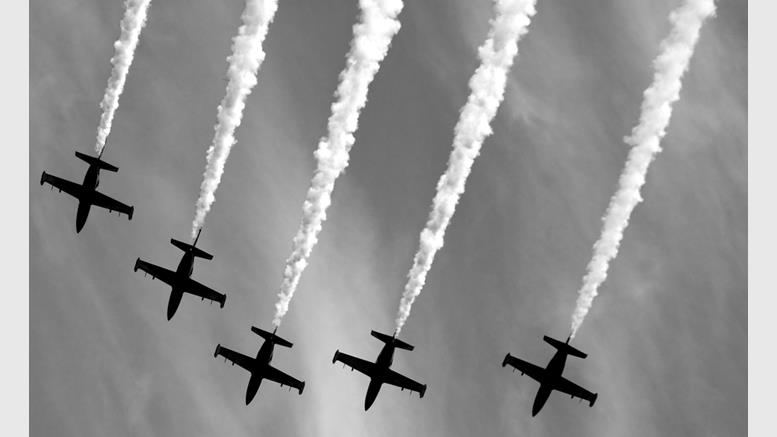 Bitcoin Price Takes a Fall to Hit a Low of $300
The Bitstamp Price Index took a steep drop to hit a monthly low of $300.30, a figure struck near 03:00 UTC, November 11th. Yesterday, the price of bitcoin opened at $377.90 UTC to see a steady decline through the day before taking a steep fall at 20:00 UTC, from $352.40 to $332.07 at 22:00 UTC. The Bitstamp Price Index started 11/11 at $336.73 before dropping to a monthly low three hours later at $300.30. At the time of publishing, the Bitstamp Price Index was trading at $314.33. The price decline comes in the aftermath of the final Silk Road auction that saw the sale 44,341 BTC. Although....
---
Related News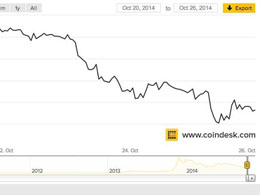 Bitcoin price resilience finally crumbled this week after two weeks of strength following the so-called 'BearWhale' slaying. The price opened the week at $386, holding steady until mid-week, when it began a steep decline. It closed at $346, shedding $40 over the last seven days. The bitcoin price deterioration follows a strong rally from $295 on 6th October to a high of $405 about a week later. Trading held steady until this week's drop, even as the wider financial markets tumbled in mid-October. Swaps activity spikes. A look at the swaps activity on Bitfinex reveals more bearish....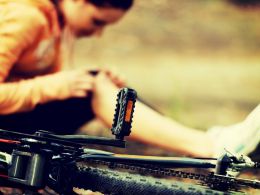 Update: Today's price low has been corrected from the earlier reported $887 to $885.41. After months of a sustained bullish rally, bitcoin price has swung to a significant slump, hitting a low of $885.41 on the Bitstamp Price Index (BPI) today. The dramatic drop comes within a day of bitcoin inching close to its all-time high. The first signs of a collapse began at 09:00 (UTC), when bitcoin was trading at $1,134.78. A thirty-minute trading period saw price fall quickly toward $1,068.84 before rebounding above the $1,100 mark an hour later. Come midday, things took a turn further....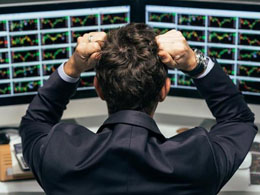 The Bitcoin price is continuously on the move. Last week it looked like we were about to experience a new bull race. Unfortunately for many Bitcoin investors, that does not look like to be the case. The Bitcoin price peaked November 13th at 453 USD per Bitcoin, before it dropped to 369 USD per Bitcoin. Since then it bounced back up to 415 USD and is now on a free fall down to 355 USD per Bitcoin. The question is now, what will happen to the Bitcoin price in the coming days? Will it continue to fall to 330 - 300 USD per Bitcoin, will it stabilize itself, or is this just a bear trap? What do....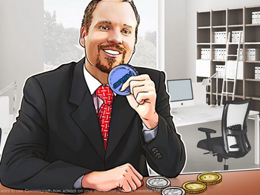 Do altcoin cryptocurrencies await the performance of Bitcoin? Will Bitcoin fall from the $450 ceiling or push on to levels of $500 and more? Litecoin once again stood at $3.80, and is expected to roughly track Bitcoin's rise and fall. Previously LTC:BTC had fallen to 0.079, having jumped sharply from 0.084. Now LTC:BTC is at 0.082 and continues to trend down. DASH loses 7% a day against the growth of the Bitcoin price, and goes under the level of 0.06. Bitcoin price growth continuation will lead DASH to fall to a level of 0.05 exchange rate and below, while long-awaited Bitcoin correction....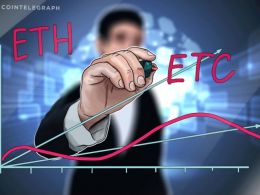 Ethereum price is continuing to fall. It is currently traded at the long-term correction peak. Is there a way for the price to go up? USDTETH. Fall in demand. The fact that Ethereum price could settle at $300 just confirms the upward trend is weak. This mark is important for growth since it was the point of the biggest offer. It wasn't able to uphold, so obviously the supply surpassed the demand. But at the moment, the fall in demand seems to be temporary. Sharp upward impulses after sharp fall only prove that. According to Vitalik Buterin, the Ethereum network development....
---
Quotes
BitCoin is actually an exploit against network complexity. Not financial networks, or computer networks, or social networks. Networks themselves.