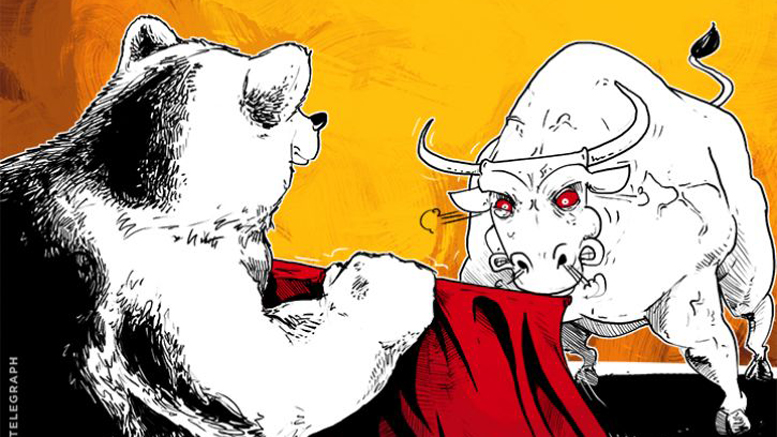 Bitcoin Price Analysis: Bulls Looking for a Breakout (Week of June 29)
BTC price at press time: US$249.45. Last week's price alert began with: "Thus far things seem different. The one thing that continues to make me weary is the lack of volume. If we are going to have a truly sustainable advance, volume needs to pick up and price needs to burst through big resistance at the 200-day Moving Average at ~US$258. As long as price remains above the 50-day, a neutral to bullish stance should be taken." The price reached a high of ~US$252 and has now come down to ~US$249 and thus far the price has been consolidating above these two moving averages, which it has been....
---
Related News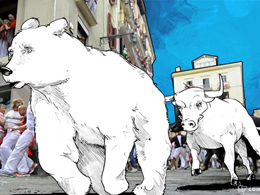 BTC price at press time: US$271.39. The fiestas of San Fermin are celebrated in Pamplona, Spain every year from July 6-14. The event has become internationally renowned because of the running of the bulls, where the bulls try to gore wanna-be matadors through the streets of the city's old quarter. Meanwhile, Bitcoin, too, is experiencing a bull run and as of this writing has broken through the 200 day EMA, the last big hurdle in its way. "The price reached a high of ~US$252 and has now come down to ~US$249 and thus far the price has been consolidating above these two moving averages, which....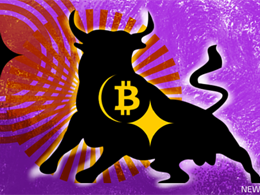 Bitcoin Price Key Highlights. After consolidating inside a descending triangle pattern for quite some time, bitcoin price finally picked a direction and broke to the upside. As predicted in the previous article, a breakout had been looming this week since price has been moving closer to the peak of the triangle. Bitcoin price could be in more gains from here, with technical indicators hinting that the upside breakout could be sustained. How High Can It Go? Bitcoin has just moved past the moving averages, which seemed to be the line in the sand for any gains. This suggests that price is....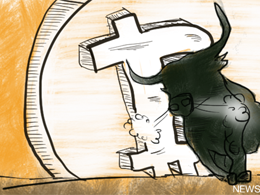 Bitcoin Price Key Highlights. Bitcoin price is still stuck in correction mode, as bulls seem unable to sustain their previous price rally. The Fibonacci retracement levels marked on the daily time frame could serve as potential areas where bulls might hop in. Bitcoin price could use a much larger correction from its similarly large rally throughout past week, possibly leading to a pullback to the 61.8% Fib. Area of Interest. At the moment, bitcoin price is finding support at the 50% Fibonacci retracement level, which lines up with the $350 mark. No reversal candlesticks have formed yet so....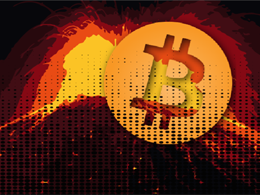 Bitcoin had been trading in a narrow range after hitting a low of $210 near the end of the first half of this month. The market participants were hoping for some volatile price action (as is the nature of this digital currency) but were instead made witness to sideways consolidation. However, on a positive note, the consolidation looks set to end this week and a major breakout may happen very soon. Each Bitcoin is currently worth $226.10. An analysis of the 240-minute BTC/USD price chart above reveals that, even though the bulls have an advantage, that might not prove sufficient to tame....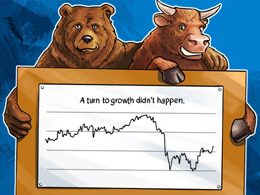 The plateaued movement of Bitcoin's price can't keep up for long. What outcome is to be expected for BTC/USD this week, and how should one go about catching the trend? The BTC/USD price has been staying between the two weekly resistance lines for the past week. This indicates an almost even distribution of power between the Bears and Bulls. However, at the end of the week, the sellers had the advantage. The buyers didn't even have enough strength to break through the level of $422.
---
Quotes
Money is a collective agreement. If enough people come to the same agreement, what they agree upon becomes secondary, whether it be farm animals, gold, diamonds, paper, or simply a code. History proves all these cases to be true. Who knows what the future is going suggest to us as money, once we see digital currencies as ordinary?