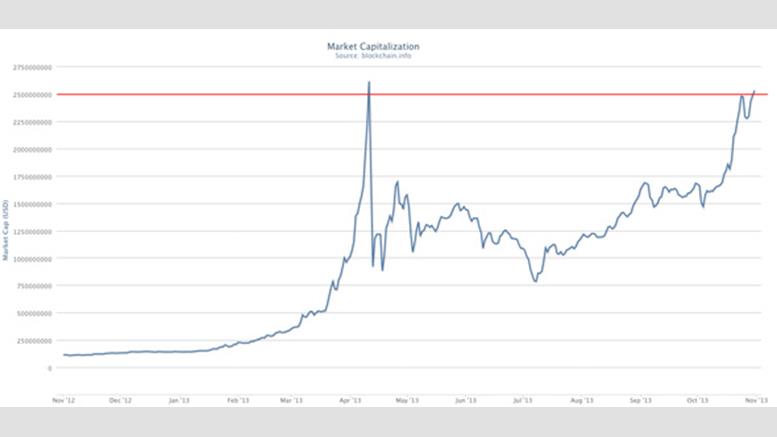 Bitcoin Market Cap Surpasses 2.5 Billion USD Once Again
Today, Bitcoin's market capitalization has once again surpassed the 2.5 billion USD since the second quarter of 2013. While a 2.5 billion USD market cap is considered "chump change" in general economics, it's a great bit of news in the Bitcoin community. The news shows great signs of growth of the cryptocurrency. The question is, will the growth continue even further?
---
Related News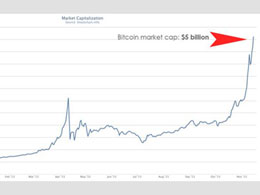 Bitcoin's total market capitalization has exceeded $5 billion USD. The news comes just says after we posted about the market cap hitting $3 billion, putting the digital currency at a growing rate that is so very impressive. The chart above will give you some level of understanding as to just how fast Bitcoin is growing as the mainstream gets accustomed to its presence. The major spike at the right of the chart from Oct/Nov dwarfs this year's previous highs - over $2.5 billion market cap in April of this year. Can Bitcoin sustain this level of growth? Where do you think we'll be by the end....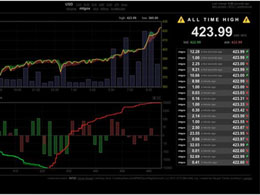 The price of Bitcoin has hit an all-time-high once again today, surpassing the $400 mark at Mt. Gox. In fact, at the time of this writing, the price is past the $420 mark, to much fanfare. We'll be surprised if the price keeps it up, but this is certainly yet another great milestone in the story that is Bitcoin, In other news, Bitcoin's market cap has surpassed the $4.5 billion mark, just days after passing $3 billion.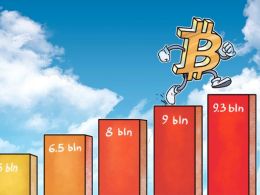 Bitcoin's market capitalization has swiftly surged past the $ 8 bln dollar mark, and even momentarily broke the the $ 9 bln mark. However, it is still a good while off its historical highest point of 13.8 billion dollars of November 2013. 9 billion dollar market capitalization. On Saturday, June 4th 2016, Bitcoin surpassed the 9 billion dollar market capitalization mark for the first time since February 2014. Although this was only a temporary change, it is testament to the rising acceptance of the cryptocurrency and its associated rising price. However, as Reddit user,....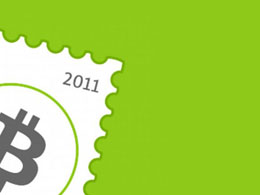 Bitcoin traders on the Bitstamp exchange platform may want to take note. New features are available that allow traders to better control their moves in the market: stop order and trailing stop order. And if you are like me (not a trader), you're probably asking yourself, what's a stop order and trailing stop order? Bitstamp explains: An order to buy or sell bitcoins when its price surpasses a particular point, thus ensuring a greater probability of achieving a predetermined entry or exit price, limiting the investor's loss or locking in his or her profit. Once the price surpasses the....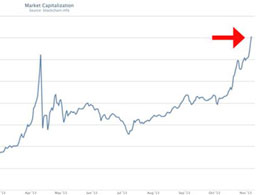 Following the news of Bitcoin hitting its all-time high on Tuesday night, Bitcoin's market cap has hit yet another milestone. Three billion dollars, in fact. The news comes just about a week the after market cap reached $2.5 billion - signaling immense growth. No doubt, the influx has very much to do with the excitement over the price getting higher (i.e. more people throwing their money in with anticipation the price will get higher). Bitcoin's market cap has grown so very rapidly, making many question when we'll hit the $4 billion mark. By year's end, perhaps?
---
Quotes
I really believe that Blockchain technology will eventually change the way system works. Centralized architecture will soon be over and replaced by a decentralized one, like how the absolute monarchy has been replaced with democracy. People are getting smarter and they begin to realize their own rights.