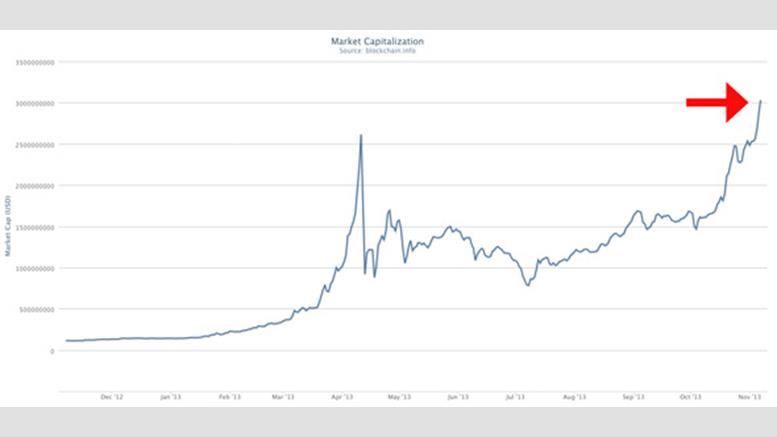 Bitcoin Market Cap Reaches 3 Billion
Following the news of Bitcoin hitting its all-time high on Tuesday night, Bitcoin's market cap has hit yet another milestone. Three billion dollars, in fact. The news comes just about a week the after market cap reached $2.5 billion - signaling immense growth. No doubt, the influx has very much to do with the excitement over the price getting higher (i.e. more people throwing their money in with anticipation the price will get higher). Bitcoin's market cap has grown so very rapidly, making many question when we'll hit the $4 billion mark. By year's end, perhaps?
---
Related News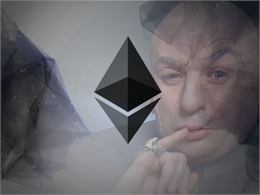 12 March 2016 – Ethereum hit a major milestone early this morning, reaching a market cap of 1 Billion US Dollars at around 3:15am GMT. Ethereum has enjoyed explosive growth since announcement of the "Homestead" beta phase of development, with a 22% jump in active nodes in a single day, and steady growth since. Ethereum has been the second most traded Cryptocurrency for over a month, but reaching this critical milestone puts Ethereum at a not insignificant percentage of Bitcoin, which holds the highest Market Capitalization at 6.3 Billion.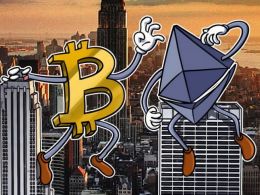 The total global market capitalization for cryptocurrency has reached 90% of its highest recorded value during late 2013's Bitcoin price bubble. Early Thursday June 16th, the total cryptocurrency market cap reached $14.3 billion, nearly 90% of its total in early December of 2013 of $15.9 billion, during Bitcoin's all-time high price over $1,000. This represents a growth in the cryptocurrency sector of $10 billion over the last year, almost $6 billion of which occurred over the last month Bitcoin not solely responsible for spike. Bitcoin's price surged to about $730....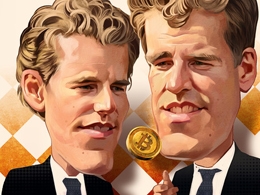 The bull case for Bitcoin is often expressed as an estimate of the future value of all Bitcoins in circulation once it reaches its potential. The most widely known estimate of its intrinsic value is $400 billion made November 2013 by the Winklevoss twins Cameron and Tyler at the "New York Times" Dealbook Conference. At that valuation Bitcoin would be worth 70 times its current value of $5.7 billion. That's based on an April 8, 2014 price of $453 per coin for the 12,620,475 Bitcoins in circulation. Clearly, there's a long way to go to reach $400 billion. So, how did the Winklevoss twins....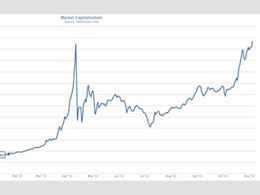 It's happened. Bitcoin's market capitalization has reached an all-time high, to an impressive $2.64 billion. Outside of the Bitcoin community, this may not be that impressive a number, but it certainly signifies that the currency continues its growth quite rapidly. The last spike in market capitalization was earlier this year in April (you can see that in the chart above from Blockchain). About one million Bitcoins have been mined since April of this year, and we're a bit over 50% of all coins being mined (for a total of 21 million Bitcoins).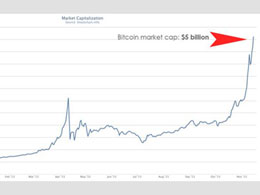 Bitcoin's total market capitalization has exceeded $5 billion USD. The news comes just says after we posted about the market cap hitting $3 billion, putting the digital currency at a growing rate that is so very impressive. The chart above will give you some level of understanding as to just how fast Bitcoin is growing as the mainstream gets accustomed to its presence. The major spike at the right of the chart from Oct/Nov dwarfs this year's previous highs - over $2.5 billion market cap in April of this year. Can Bitcoin sustain this level of growth? Where do you think we'll be by the end....
---
Quotes