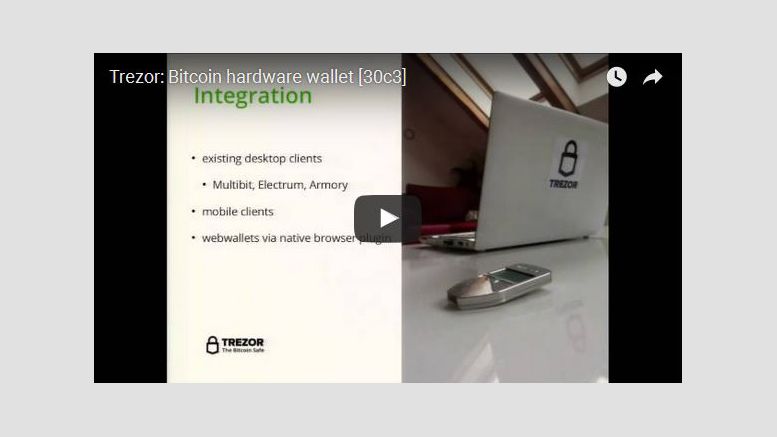 Video: TREZOR Bitcoin Hardware Wallet at 30c3
This past weekend, the TREZOR bitcoin hardware wallet, was demoed at the 30th Chaos Communication Congress (30c3) in Hamburg, Germany, with Pavol Rusnak at the helm. The TREZOR hardware wallet aims to be a secure solution for interacting with the digital currency, with many holding the opinion that its arrival is key to the mass adoption of bitcoin. If you'd like to skip to the part where the device is physically demonstrated for the audience, you can find that here. Otherwise, feel free to check out the entire presentation, which comes in at about 27 minutes. (via YouTube)
---
Related News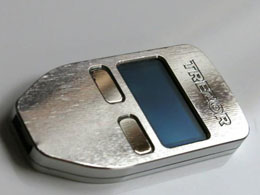 An early version of the TREZOR hardware wallet. After months of delays and a price controversy, it seems that TREZOR is finally ready to ship their much-anticipated hardware wallets. The company behind the product released a statement on their website today claiming that shipments of the TREZOR Metallic will be made by the end of January, while the TREZOR Classic will ship a few weeks later. The early supporters of the TREZOR hardware wallet will be happy to hear the good news, and they will be rewarded for that early support with a limited-edition version of the new wallet. This is the....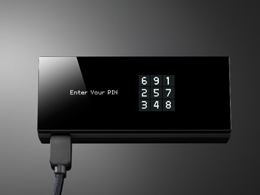 Hardware Bitcoin wallets are the next evolutionary step on the way of keeping BTC in safe and secure location. Considering most hardware wallets are pocket-sized, they have become increasingly convenient to carry around, and require no internet connection to use properly. One of the world's leading hardware Bitcoin wallet manufacturers, Trezor, has gained the lion's share of the market. But there is a new Trezor spinoff that will attempt to take that crown. It has to be said, Satoshilabs, the company behind popular hardware Bitcoin wallet Trezor, has created a fine piece of software. As a....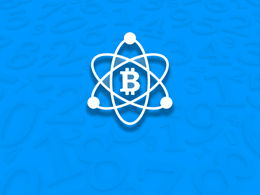 BitPay's multi-signature wallet solution – called Copay – has added TREZOR Hardware Wallet support. Even though the TREZOR hardware wallet has been around since 2013, it has taken a while for the BitPay engineers to integrate this functionality into Copay. The long wait is finally over, however, as the Chrome desktop app for Copay has been updated. Integrating TREZOR functionality into the Copay Chrome app brings additional functionality to the table. For example, Copay users will be able to sign transactions with their TREZOR hardware Bitcoin wallet, rather than only being able to do so....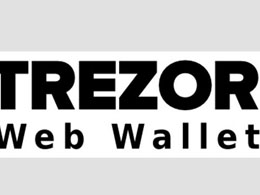 Not only did the team at TREZOR today confirm shipment details of their brand-new bitcoin hardware wallets, the company also announced the coming of a little something they call MyTREZOR - an web wallet catered to TREZOR hardware wallet owners. "Until the integration of the TREZOR device with other software wallets is finished we are introducing a MyTREZOR Web Wallet available at MyTrezor.com," says the announcement. "Our aim is to provide an easy and intuitive bitcoin transaction tool to TREZOR owners." The company touts security and convenience features, such as the ability to only make....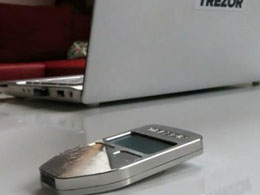 It's been a day for reporting hardware incarnations of Bitcoin. First we had Firmcoins, and now we have the more established Trezor team taking pre-orders for its self-named Bitcoin wallet-cum-dongle. There are two versions of the device. A plastic-encased model, set for a November 2013 release, sells for 1 BTC. That is followed by a brushed aluminum version which costs 3 BTC and is slated for an October 2013 release. Pre-ordering for either of the wallets is available through the Trezor eShop. "This Pre-Order allows you to purchase a TREZOR today and be among the first TREZOR owners when....
---
Quotes
The potential is great for people in the informal economy to exploit the blockchain's middleman-free way to exchange assets and information and its irrefutable public record that's free from the control of any one central institution.