China to Add Cryptocurrency Mining to 'Negative List for Market Access' Makin...
China has proposed adding cryptocurrency mining to the country's latest "Negative List for Market Access." This will make cryptocurrency mining an industry that is off-limits to investors, another move by the Chinese government to clamp down on crypto-related activities. China's Negative List of Industries to Include Cryptocurrency Mining Cryptocurrency mining has been added to the 2021 draft "Negative List for Market Access," according to an announcement on Friday by China's National Development and Reform Commission, the state....
---
Related News
China has once again reinforced its position on cryptocurrencies. Even though crypto mining is illegal in the country, some have chosen to operate illegally. To this effect, China has added crypto-mining to the 'negative list' of industries. This latest effort means that investors can no longer invest in the crypto mining sector. A document released […]
The Bitcoin Mining Council has publicized its aim to tackle negative media narratives. In its inaugural meeting which was hosted on Twitter Spaces, the council discussed bad press that has been surrounding Bitcoin and its mining in the past weeks. The China crackdown has led to the shut down of a number of mining farms. […]
Bitcoin mining difficulty has posted another negative adjustment on Sunday, with the difficulty rate almost halving since mid-May. Amid the ongoing crackdown on cryptocurrency mining in China, mining new Bitcoin (BTC) continues getting easier as BTC has experienced another mining difficulty drop.On July 18, the Bitcoin network posted its fourth consecutive negative adjustment of mining difficulty, dropping 4.8%, according to data from Bitcoin explorer BTC.com.The latest mining difficulty adjustment occurred at block 691,488, reducing the difficulty rate from 14.4 trillion to 13.7 trillion,....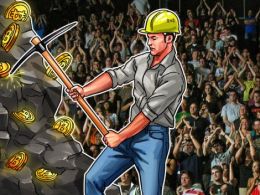 The Bitcoin mining community, a very valuable and powerful association, always seems to have this "elephant in the room." This elephant would happen to be the massive stranglehold that China has over the globe's total Bitcoin production. Very few have seen this as a positive development within the spectrum of Bitcoin. This has been a constant source of consternation inside and outside of the Bitcoin mining community since the aforementioned evidence of mining life became apparent in 2014, when China flipped the Bitcoin production script. Regarding this topic, Bitcoin mentor, and master....
Bitcoin mining took a big hit when the Chinese authorities commenced a crackdown on crypto mining. This had led to an exodus of miners out of China. Which had been the world's headquarters of mining at the time. Over 70% of the entire mining in the world is carried out in China before the crackdown […]
---