Bitcoin Is Approaching Hash Rate All-Time Highs
If the recent trend in Bitcoin network hash rate continues, we should see new all-time highs by the end of the year.The below is a direct excerpt of Marty's Bent Issue #1124: "Approaching hashrate all time highs." Sign up for the newsletter here. via bitcoin.sipa.be via insights.braiins.com If the recent trend in Bitcoin network hashrate growth continues pace, we should see new all time highs by the end of the year. This is an incredible development when you take the CCP's ban on all mining operations within China in May of this year. At the time of the ban many, myself included,....
---
Related News
China's exit from Bitcoin mining is now all but unnoticeable as network fundamentals take care of their own recovery. Bitcoin (BTC) has all but deleted any trace of the mining ban, which saw its hash rate dive 50% this year.According to the latest estimates, the network hash rate is now back at levels from May, just before China outlawed its Bitcoin mining industry.Hash rate recovers the dipFive months since the largest-ever migration in Bitcoin's history began, network fundamentals have staged a major comeback.Coming in leaps and bounds as miners relocated and started over, the recovery....
The Ethereum mining hash rate has reached a new all-time-high (ATH) value after completely recovering from China's crackdowns. Ethereum Mining Hash Rate Makes New ATH The ETH network hash rate has made a new ATH record as the average daily hash rate reached 715k GH/s on Sunday. As Ethereum currently uses a Proof of Work […]
The Bitcoin hash rate has hit new highs after rising more than 114% in five months, fully recovering from the Chinese ban of bitcoin mining.
As Bitcoin hash rate continues to rise, a new ATH could soon be in sight. Here's what it might mean for the price based on previous pattern. Bitcoin Hash Rate Continues To Go Up The BTC hash rate has been increasing for the past couple of months after crashing down in June from the all-time-high […]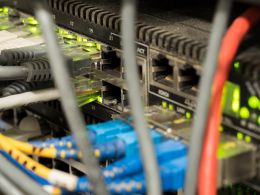 The bitcoin hash rate currently nears 3 exahashes, representing an all-time high for the processing power of the Bitcoin network. The escalating hash rate concurs with continuing social media reports that Beijing-based Bitmain Technologies Limited, a company which supplies bitcoin mining equipment, suffers consistent supply shortages due to high demand.....
---