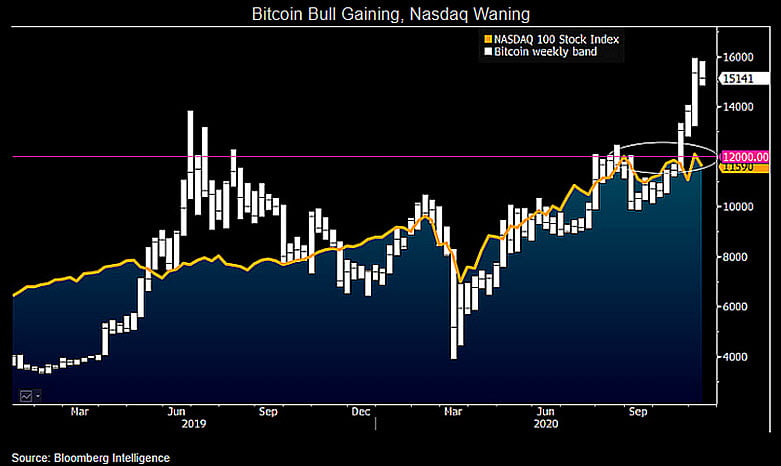 Bloomberg Goes Bullish on Bitcoin on Latest Nasdaq Decoupling
Bitcoin is on track of further price appreciation as it decouples from a classic positive correlation with tech stocks, according to Mike McGlone of Bloomberg Intelligence. On Wednesday, the senior commodity strategist highlighted the ongoing trend deviation between the flagship cryptocurrency and the Nasdaq 100 Stock Index — a benchmark that tracks the market performance […]
---
Related News
Bitcoin has given a powerful buy signal that demanded the financial world begin paying closer attention to cryptocurrencies. The recent momentum has also caused the top crypto asset to "decouple" from the stock market.  Thus far, it has been primarily crypto analysts shouting about the coming decoupling, but now even Bloomberg Intelligence senior commodity strategist Mike McGlone says that the divergence away from the Nasdaq 100 is the "underpinnings for further appreciation." Here are the […]
Bitcoin's growth has quickly outpaced Nasdaq's in the past ten years. A potential decoupling scenario between Bitcoin (BTC) and the Nasdaq Composite can push BTC price to reach $100,000 within 24 months, according to Tuur Demeester, founder of Adamant Capital.Bitcoin outperforms tech stocksDemeester depicted Bitcoin's growing market valuation against the tech-heavy U.S. stock market index, highlighting its ability to break out every time after a period of strong consolidation. "It may do so again within the coming 24 months," he wrote, citing the attached chart below.BTC/USD vs. Nasdaq....
In its latest monthly "Crypto Outlook" report, Bloomberg outlined the "rising bitcoin adoption tide" with some bullish sentiment.
In the last few days, bitcoin has shown the beginnings of a long-awaited decoupling point.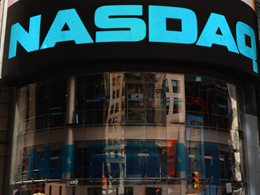 Nasdaq CEO Bob Greifeld has suggested that the US-based stock market plans to roll out additional blockchain projects "in the future". The comments are the latest from the firm, which announced plans to trial blockchain technology as part of its Nasdaq Private Market service in May. Nasdaq revealed in June that it had established a formal relationship with blockchain services provider Chain. Greifeld's most recent statement was made in a conference call in which he hinted at the stock exchanges's strategy toward the technology, according to Bloomberg. Greifeld said: "The application of....
---