Fight for Bitcoin: Brazilian UFC star to receive fight earnings in BTC
UFC fighter Matheus Nicolau is moving to the Bitcoin paycheck to hedge against inflation and secure the value of his hard work. Ultimate Fighting Championship fighter Matheus Nicolau is the latest world-famous athlete to opt to receive his fight earnings in the largest cryptocurrency, Bitcoin (BTC).The eighth-ranked UFC flyweight fighter, Nicolau received his first salary in Bitcoin on Monday through a deal assisted by Bitwage payroll service, according to a joint announcement shared with Cointelegraph.The Brazilian sportsman has opted to take a paycheck in BTC to hedge against the rising....
---
Related News
Brazilian UFC fighter Luana Pinheiro becomes the first female sportswoman in Latin America to receive her entire salary in BTC. Ultimate Fighting Championship (UFC) fighter Luana Pinheiro announced that she has partnered with Bitwage to receive her salary in Bitcoin (BTC). Pinheiro said she continues to receive fiat payments from her sponsors but converts them to BTC immediately through Bitwage. Pinheiro is currently ranked 15th in her UFC division and has won eight consecutive fights. The fighter said she chose to receive her salary in Bitcoin after her boyfriend and fellow mixed martial....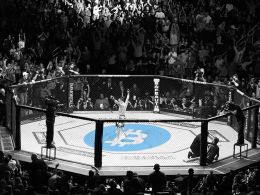 It is that time again, UFC Fight Night Cyborg vs. Lansberg in Brasilia, Brazil. This card will be broadcast free on FS1. As with every fight card in Brazil, it is packed with Brazilian fighters including Antonio Silva, Godofredo Pepey and Erick Silva. If you want to bet on MMA, the best way is to use bitcoin. The use of bitcoin at sportsbooks is exploding. Now let's take a look at some of the fights. UFC Fight Night Bitcoin Betting Picks. Cristiane "Cyborg" Justino vs. Lina Lansberg. Cyborg returns to the cage. The UFC was looking for someone for Cyborg to fight and had to look outside the....
Bitcoin is helping to fund the Ukrainian fight against Russia. The conflict that has been on for a while has continued to rage on. This has led to a higher need for funds to aid in the fight. Volunteer organizations that provide the Ukrainian military with weapons and medical supplies have turned to crypto donations […]
The #8-ranked UFC flyweight fighter Matheus Nicolau penned a deal to receive his future fight earnings in Bitcoin through the payroll service, Bitwage.
Professional cricket star Brett Lee has donated one bitcoin to a fund offering relief for Indian hospitals overwhelmed by COVID-19 cases.
---