Uniswap (UNI) price jumps by 15% in DeFi, cryptocurrency market rebound
The jump in UNI/USD rates has quickly met with sellers at local top levels. Uniswap (UNI) was among the best performers among the top-cap cryptocurrency tokens in the previous 24 hours, logging better gains than some top cryptocurrencies, namely Bitcoin (BTC), Ether (ETH), and Binance Coin (BNB).On Sept. 15, the UNI/USD exchange rate jumped 13.26% to hit its seven-day high $25.68. Traders continued to bid higher on the pair entering Wednesday, pushing its value higher to $26.07 at one point in time, up more than 15% from the previous session's open of $22.66.Market-wide recovery behind UNI....
---
Related News
UniSwap's governance token UNI was among the biggest gainers on Friday as the rest of the cryptocurrency market succumbed to a bearish fundamental. The crypto index lost about $7 billion as trades panic-sold a portion of their holdings under the influence of OKEx. This Malta-based exchange landed itself in the middle of a criminal investigation. […]
Numbers don't lie: Uniswap v3 gains traction with DeFi users despite May's crypto market crash. Decentralized exchange Uniswap successfully launched version 3 of its platform in May — resulting in high trade volumes despite a downturn across the cryptocurrency markets.The latest version of the hugely popular decentralized finance (DeFi) automated market maker (AMM) has quickly attracted a sizable amount of trade volume, seeing it move into the top five decentralized exchanges alongside Sushiswap, PancakeSwap v2 and its predecessor, Uniswap v2.The success of v3 cannot be understated, as the....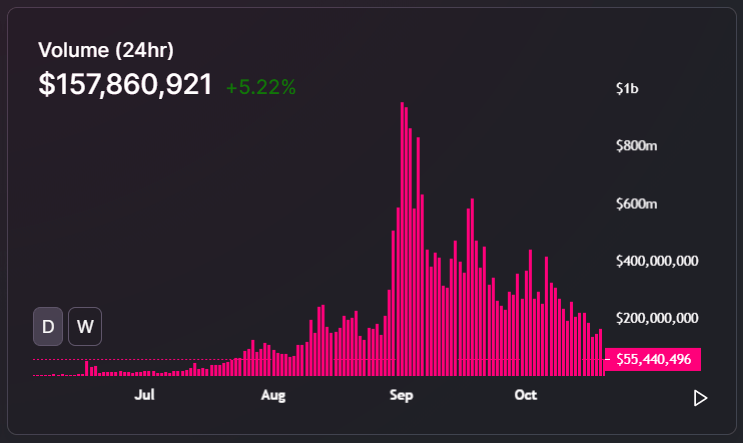 The decentralized finance (DeFi) market is slumping as large-cap tokens like Uniswap (UNI), Yearn.finance (YFI), and Maker (MKR) decline. Atop the lackluster performance of major tokens, the volume of the Uniswap decentralized exchange has substantially dropped. On September 1, when Uniswap surpassed Coinbase Pro in daily volume, it processed $953.59 million of volume in 24 […]
UNI, the native governance token of Uniswap, surged immediately after the Uniswap V3 launch. UNI, the governance token of Uniswap, the most widely utilized automated market maker (AMM) in DeFi, has surged significantly after the launch of Uniswap V3 on March 23. At just over $35 per token, UNI has gained nearly 23% in the past weekThe Uniswap team said:"Today, we are excited to present an overview of Uniswap v3. We are targeting an L1 Ethereum mainnet launch on May 5, with an L2 deployment on Optimism set to follow shortly after."With a market capitalization of $17 billion, it has....
AAVE was trading higher on Friday, continuing a rebound that followed a massive 45 percent price crash between October 15 and 21. The decentralized finance token rose by up to 9.87 percent to establish an intraday high above $40. Its latest upside move brought its total retracement up by circa 25 percent, leading analysts to […]
---