Latin America, Tipping Point: Cuba Regulates, Honduras ATM, Venezuela Spends
Is Latin America in the eye of the storm that'll reshape the world? The region certainly benefits from the existence of Bitcoin and other cryptocurrencies. Latin America needs hedges against inflation and a quick and easy way to send remittances. The cheaper the fees, the better. And when you truly need something, you're bound to […]
---
Related News
Do Latin America 's unique characteristics put the continent in position to adopt cryptocurrencies before the rest of the world? Or is El Salvador an isolated case? In Latin America, Tipping Point we'll select the area's most important headlines and summarize them in a few sentences and quotes. This is the jam-packed news compilation you […]
Typical Latin America. The region as a whole is having a love/hate relationship with cryptocurrencies. On the one hand, apparently, crypto remittances in Brazil, Argentina, and Venezuela grew 900% last year. On the other, Mexico and Peru's Central Banks are actively working in their CBDCs. Which way will the scale tip? The jury's still out […]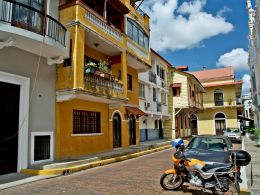 Panamanian crypto-teller machine TigoCTM has added Dash to its roster of cryptocurrencies for sale and purchase over its network in Latin America. With a new partnership, Dash will see its partner TigoCTM, a crypto teller machine company, add the cryptocurrency to its network of ATMs that already provides bitcoin and other digital currencies to adopters and new users in Panama and Latin America. TigoCTM CEO Cindy Zimmerman sees reason for cryptocurrencies to flourish in Latin America among unbanked or underbanked users in Latin America, particularly in countries like Venezuela where....
Did we overestimate Latin America's interest in Bitcoin and other cryptocurrencies? Even though the continent seems to need the technology the most, mainstream adoption feels so far away. The El Salvador experiment might change that, but it's not a guarantee. And, so far, there are no major indicators that any other country is going to […]
A study revealed a rising trend in bitcoin (btc) volume trading across Latin America amid the coronavirus pandemic and rising inflation, pushing the figures to record highs and putting Venezuela and Colombia at the top of the ranking. Latin America Sees a Bullish Trend in Bitcoin P2P Trading Volume According to Localbitcoins, a peer-to-peer (P2P) bitcoin marketplace, both Venezuela – remaining as the second-largest bitcoin trader globally with 12.3% – and Colombia (11.3%) accounted for over 23% of the total trading volume on the platform during 2020. However, Russia is still....
---